Rice Fortification System – FRK Blending System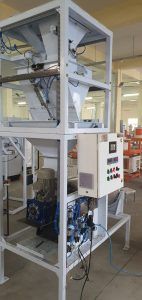 FRK Blending Machine
Accord Blending machine Model no ACC-FRK-51 has been developed specially for Weighing and Blending specially to reduce the broken during blending. The machine provides highest degree of Accuracy and Performance with state of art concept combined with strong automation expertise of M/s Accord Automation. 
The Equipment is very easy to be installed and the user interface is simple even for the novice operator to program backed up with an Strong support by Team Accord . The Batching and Blending machine is specially designed to reduce broken during mixing
Features of the Machine
3 products are weighed and Blended. 
Very high Accuracy of weighing system for major and minor product
Independent load cell for minor weighing
PLC controlled with touch screen and High resolution load cell controller
Ease of operation and Calibration
Remote programming of Equipment
IOT based online monitoring (available on request )
Excellent Service Support. 
FRK Blending Automatic Machine
Continuous/ Inline system to integrate seamlessly with the existing production line.
Load Cell based technology for accuracy within +/- 0.5%.
PLC based system with Touch Screen controls.
Easy operation, steady and reliable performance.
Inbuilt FRK Silo with level sensors and alarms to prevent operator oversight.