We provide Complete Trunkey solution for Plants that include
Design and Manfacture for the following :-
The Electrical and Automation Panels 
Online Weighers for yield output 
Flow Balancers for Process flow 
Scada Software for Plant control and Management 
Field cabling and commissioning  of plant
Flour Mill
We have commissioned Flour Mill  up to 500TPD (tons/Day) .
Complete Automation provided for 
Power Consumption 
Precleaning 
Cleaning 
Milling  
 Atta 
Online Flow weigher(Extraction Scales )
Flow Balancers  
Rice Mill
Accord  has installed and commissioned more than 300 Rice mills in India and Abroad 
The plant size is single line from 4 Tons/hour to 20 Tons /hour .
The Solution includes complete Turnkey solution from HT Panels to yield output . 
Accord has provided complete fully automation and Semi automation  for Parboiling ,Dryer and Precleaning plant 
The Automation drastically reduces the parboiling time .
Accord has provided Boiler Automation along Turbine  Steam consumption and steam management.
Dal Mill
Complete Automation provided for
Power Consumption 
Precleaning 
Cleaning 
Milling  
Online Flow weigher(Extraction Scales )
Flow Balancers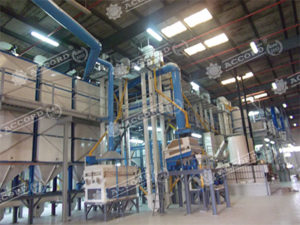 Energy Food
Accord has provided Complete Weighing and Batching solutions for Feed Mills and Energy Food with our valued partners.
The concept :-
Products are weighed on an Weighing hopper.
Liquid Weighing Equipment is provided 
Complete batch is mixed on an Ribbon Blender 
Weighing recipe is programmed from PLC 
 Fully automation based plant 
Distillery
We have installed and commissioned Distillery the solution included 
Motor control center Panels ,PLC with Scada along with instrumentation
Corn Flakes
Installation, Programming and Commissioned fully automated 500KG/Hour CornFlex plant
Others
Maize/Maize Grit
Oats
Semilona
Poultry Feed
Cattle Feed
Spice 
Dairy
Gaur Gum
Solvent
Distillery
We have installed and commissioned Distillery the solution included 
Motor control center Panels ,PLC with Scada along with instrumentation
Corn Flakes
Installation, Programming and Commissioned fully automated 500KG/Hour CornFlex plant